Diese Veranstaltung hat bereits stattgefunden.
ONLINE: Women who inspire Rhein-Main – Unibator Edition von Frankfurt Valley
17. September 2020 | 18:00

–

20:00

kostenlos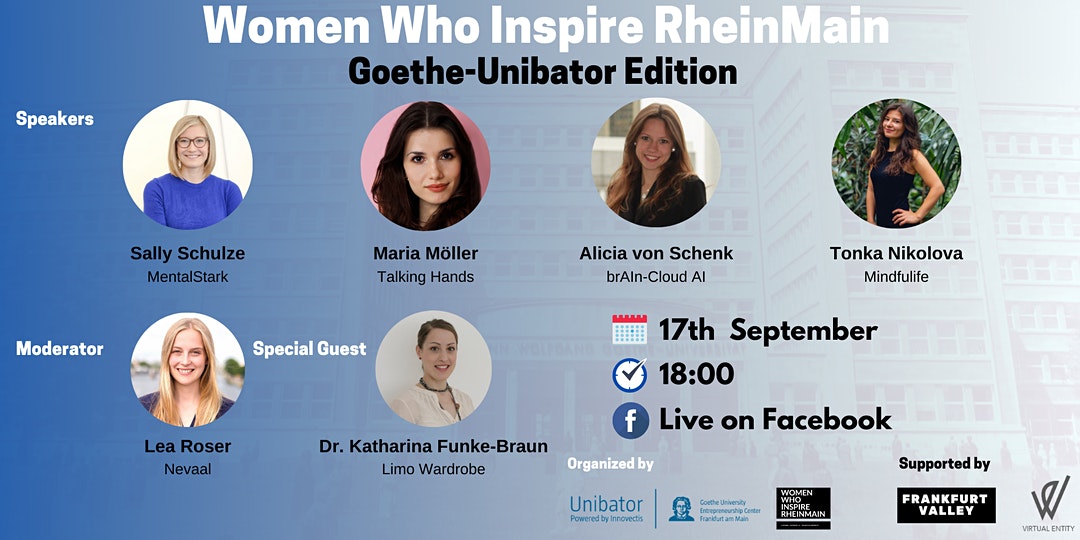 Roundtable of Female Founders: in common Unibator and successful stories that inspire Rhein Main
Women who inspire RheinMain and Goethe-Unibator join forces for the second time for our next online event.
In this Edition four young female entrepreneurs will share their journey and startup stories.
They will also discuss resources for female founders in creating innovative businesses in our RheinMain Region.
Who will be joining us?
Sally Schulze from MentalStark
Maria Möller from Talking Hands
Alicia von Schenk from brAIn-Cloud AI
Tonka Nikolova from Mindfulife
Session will be moderated by Lea Roser and will have inputs as well from a special guest Dr. Katharina Funke-Braun
If you're a female founder working on a idea / Join us!
If you are a startup enthusiast, either man or woman, join us as well – Diversity and Inclusion is crucial.
Session will be streamed on Facebook to comply with the actual pandemic scenarium and with the recommendations of the health and public authorities (the Frankfurt Health Department and the Hessian Ministry for Social Affairs)