Diese Veranstaltung hat bereits stattgefunden.
Semi-automating Trustworthy, Explainable AI with Accelerated Computing
9. Juni 2022 | 16:00

–

17:00

kostenlos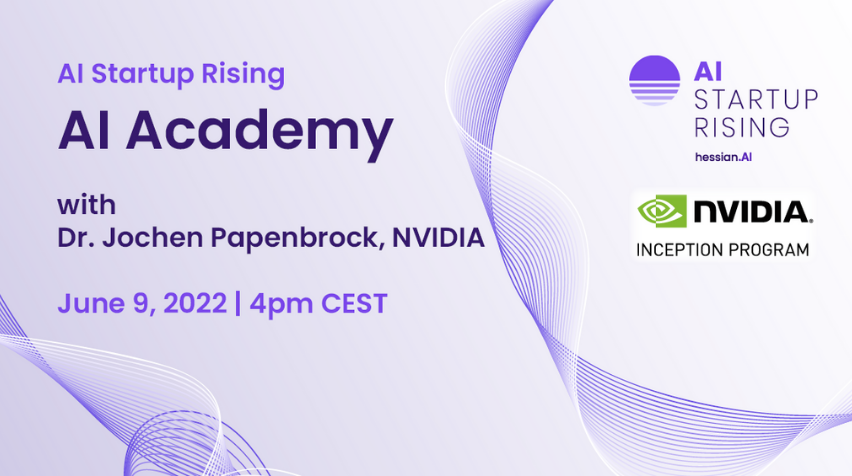 AI Startup Rising enters the fourth round with its AI Academy! Jochen Papenbrock, Head of Financial Technology at NVIDIA is going to talk on June, 09, 2022 at 4pm about democratizing AI quality and testing through computational trustworthy AI.
The scaling of AI in the financial and other sectors will only succeed if the quality of AI is controlled and audited. Testing, inspection, and certification of AI will lead to the necessary confidence in AI demanded by the public and regulation. However, this will be very costly, and compliance with current and future AI regulations will be prohibitively expensive for many financial institutions, especially SMEs and FinTechs.
The solution is to leverage technologies such as computational trustworthy AI and privacy-preserving confidential computing using modern accelerated computing infrastructures and platforms to partially automate key AI model control and testing functions such as AI model explanation and debiasing as well as testing for robustness, concept drift, and adversarial attacks. These technologies currently enable the establishment of an entirely new industry, ecosystem, and market for democratizing AI assurance/certification as a service across Europe. The financial industry and other sectors can leverage these combinable, sophisticated service offerings to meet their regulatory requirements and build societal trust in their AI applications and products. In 2020, a consortium of partners established the Gaia-x Financial AI Cluster (FAIC) project, dedicated to building such an ecosystem in Europe.
Building on the legacy of the EU Horizon2020 FIN-TECH project, the FAIC consortium has already implemented a number of use cases and published GPU-accelerated code for processing realistic dataset sizes and complexities. One use case focuses on XAI (Explainable AI) in credit scoring, allowing a third-party company to provide XAI-as-a-Service based on accelerated computing. Another use case is based on a collaboration with Munich Re Markets, where GPUs accelerated an InvestTech XAI application from days to minutes.
About the speaker
Jochen Papenbrock is Financial Technology Customer & Partner Relationship Manager – EMEA at NVIDIA and the contact for AI & HPC infrastructure, platform and use cases in the financial services area. He has a 15 year consulting and entrepreneurial background in the financial services industry, where he works at the intersection of AI, quantitative modeling, business, IT, risk management and regulation.
AI Startup Rising
AI Startup Rising channels the startup activities of hessian.AI, the Hessian Center for Artifical Intelligence. The goal is to aggregate and expand existing competencies in Hesse and to build an internationally visible AI innovation ecosystem that understands the region's cutting-edge AI research as a source of sustainable high-tech and deep-tech startups, produces successful startups, and acts as a point of attraction for talent, investors, and companies.
→ Further information on AI Startup Rising