Diese Veranstaltung hat bereits stattgefunden.
ONLINE: A glimpse into the future: tech foundations and use cases in the Metaverse
23. September 2022 | 10:00

–

11:15

kostenlos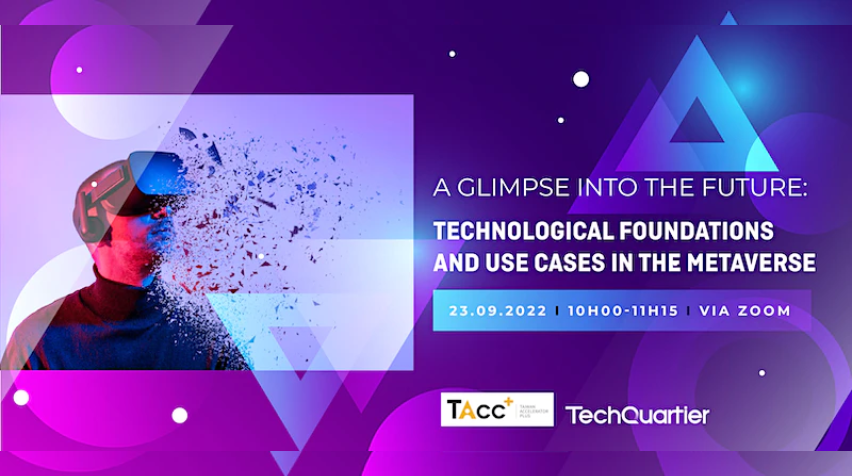 On September 23rd, TAcc+ and TechQuartier are hosting an event on the technological trends behind Metaverse.
Join us online for a 1-hour event to gain insights on technical building blocks of metaverse. Explore the current and future applications of metaverse, as covered by experts through dynamic presentations, pitches by startups active in the field, as well as Q&A.
Agenda:
Welcome by TQ & TAcc+
Keynote by Michael Tsai, Director of Insight, TAcc+/ Business Manager at ITRI (Industrial Technology Research Institute)
Startup Pitches around use cases in the Metaverse (tba)
Q&A
___
About TechQuartier:
TechQuartier, founded in 2016 in Europe's financial center of Frankfurt, is a cross-industry innovation platform created to bring startups, corporates and new talent together to work, meet, learn and collaborate on new technologies and digital business models. Our community counts more than 520 startups, 50 academic and corporate innovators and hundreds of talented professionals and potential founders.
About TAcc+:
Taiwan Accelerator Plus (TAcc+), a full spectrum of customer driven acceleration programs focusing on IoT and healthcare. The uniquely designed program is sponsored by Taiwan government with the objective of elevating startups' competitiveness by providing end-to-end entrepreneurial infrastructure with Taiwan's industry strengths.