Diese Veranstaltung hat bereits stattgefunden.
ONLINE EVENT: Founder Institute Frankfurt Startup Showcase – DEMO DAY
25. März 2020 | 18:30

–

21:30

Kostenlos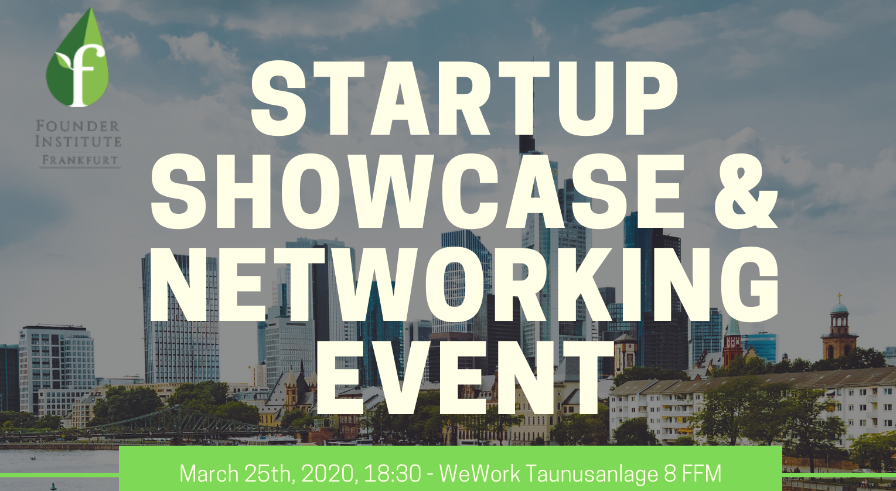 The Founder Institute (FI) is the world's largest startup accelerator and the Frankfurt program is notoriously difficult. Join us for the graduation of the latest Frankfurt cohort, where you can see presentations from entrepreneurs who are building the next generation of great companies. Learn the tips and tactics for building a company in Frankfurt and ask founders about their experience in the accelerator program. Angels, venture capitalists, media, mentors, and anyone interested in Frankfurt startups is invited to attend and connect.
❯ Who Should Attend?
– Angel and early-stage investors looking to invest in startups
– Alumni, mentors, and friends of the Founder Institute
– Anyone interested in launching a technology company in Frankfurt
– Anyone who is interested in innovative companies coming out of Frankfurt
❯❯ This event is FREE + ONLINE  Please RSVP here: http://fi.co/e/217218/meetup
For information about the investors, incubators, and tech events available, see our list of Startup Resources (https://fi.co/startup_resources). Interested in perfecting your pitch? Read our Pitch Deck Guide (https://fi.co/pitch_deck) and download templates.
This event is sponsored by the Founder Institute startup accelerator. Founder Institute provides a step-by-step program that gives startup founders the structure, mentor support, and network of entrepreneurs they need to start an enduring company. Based in Silicon Valley and with chapters across 65 countries, the Founder Institute's mission is to "Globalize Silicon Valley" and build sustainable startup ecosystems worldwide.