Some weeks ago, I personally unveiled some info about an event that I was planning and organizing – Frankfurt Talent Night– by Talent Summit / Talent Space and hosted at WeWork Frankfurt. Well, today we are one week to go.
In a nutshell, Frankfurt Talent Night it´s an event that focuses on connecting students, young professionals, and expats, with the local digital and startup ecosystem from Frankfurt. 
We have been in touch not only with great projects, but also professionals and universities to convince as many people to join as possible.
More details here
If you want to join – make sure you mark as going and apply here
Entrance is for free – but we need to make sure we don't reach the maximum event capacity-around 350 people.
The line-up of speakers is tremendous:
Dennis Schmoltzi has an impressive educational background gaining proficiency in Business Administration, Corporate Law, and Finance from a variety of institutes including EBS University of Business and Law, New York University School of Law, and Goethe University Frankfurt. Complementing his studies, he gained invaluable experience working as McKinsey's Engagement Manager.
Dennis is now the co-founder of Bettzeit GmbH, one of the fastest growing startups in Europe. At Bettzeit, he motivates and leads a team of 150 employees which work daily to provide the best sleeping experience to their clients in more than 15 markets across Europe.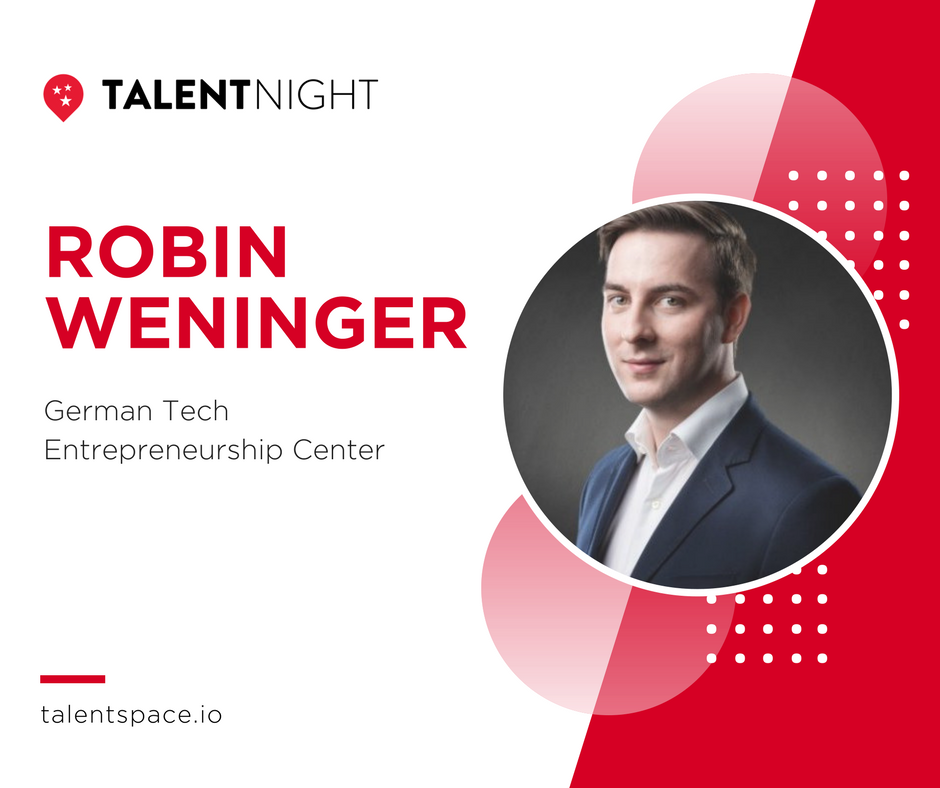 Robin Weninger is the Director of Education at GTEC – German Tech Entrepreneurship Center – the first private-sector, open ecosystem for entrepreneurship in Europe and is constantly working to unlock the potential of entrepreneurship and technology to enable a desirable and sustainable future!
Robin is the responsible for the team's Frankfurt Office.
On top of this, he is a lecturer at Zigurat Innovation and Technology Business School in Barcelona, Frankfurt School of Finance & Management, and the Digital Product School in Munich. To add to his impressive profile, he has also been honored as a Global Shaper and Digital Leader by the World Economic Forum in the years 2015 and 2017, respectively.
Christopher Reimann is considered to be an absolute marketing and design talent at PANDO.Ventures, a project he co-founded with the motto "WE BUILD – WE FOUND – WE CONNECT."
Earlier this year, PANDO.Ventures was selected as one of the best accelerator programs in Europe! Within the program, PANDO helps startups to validate their business idea, generate first customers, and acquire investor funding. In his talk, Christopher will be explaining how he helps projects scale internationally.
Friedhelm Schmitt is the co-CEO of Fincite who were recently distinguished as a leading employer by FOCUS Business. With offices in both Germany and Peru, Fincite is on a mission to establish itself as the #1 Digital Asset Management Technology Provider by 2020. They are working to co-create and connect Asset Management in a data-driven and digital world by providing all parts of the value chain of digital asset management.
WeWork is truly the platform for all creators. They provide the space, community, and services you need to create life's work.
Today, I want to share the name of other companies that will be at the event, to make it even more a win-win opportunity for the ecosystem.
Acellere, Mailtastic, Antelope, Fastbill, Acomodeo, Savedroid, and many more will be on the spot.
Also, we will have some sponsored drinks by Acáo and Vinamy.
So we are looking forward to gathering some community there! Join us!
Some highlights of the main event in Berlin – last year, can be found here:
[youtube https://www.youtube.com/watch?v=setqAkDQSTE&w=560&h=315]
Sunday Briefing - Dein kostenloser Newsletter aus dem Startup- und Innovations-Ökosystem FrankfurtRheinMain direkt ins Postfach.