If you are looking for a sign to start working out, this is it! Start now!
Either you are new or you are a pro, this is a tip to improve your performance and have fun while doing sports.
I´m talking about UrbanX, a social sports app that will change permanently the recreational sports.
On July 22nd 2017, the UrbanX App was launched on the World Fitness
Day in Frankfurt, presented to a broad audience for the first time and it´s officially available for iOS and Android since some months.
This is it: Users learn from other athletes, know their city and arrange meetings to sport.
The focus is on so-called Meetups – sports meetings everyone can participate.
With this, UrbanX takes up current trends in the sports world:
• Sport becomes a lifestyle
• Sport is shared via digital platforms
• The city becomes a sports ground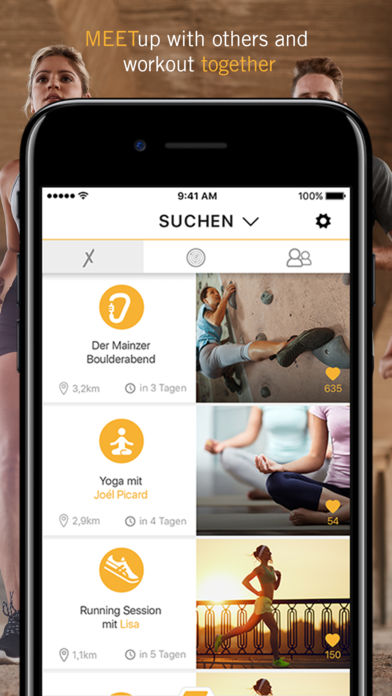 Everywhere: Your own location can be adjusted manually.
Users will discover sports meetings in advance
Training partner for the next city trip.
Free: All features of the app are free to use.
In the future, premium upgrades can be chargeable if required
be acquired.
Professional: Personal trainers, clubs and colleges
manage their sports program through the app, allowing users as well
Get access to professional sports.
Always up-to-date: users get news about theirs
Events and interests immediately notified and stay
thereby always up to date.
"UrbanX macht das Leben für uns an der Volkshochschule
leichter. Wir kriegen damit mehr Bewegung unter die Leute,
mehr Kurse und die Leute leben gesünder!"
Philipp Salamon-Menger – Direktor der VHS Wiesbaden
"Ich als Coach finde es toll mit UrbanX ein komplettes Tool zu
haben, um meine Trainings zu organisieren."
Jörg Oberle – Personal Coach
"Sport in der Gruppe hat maßgebend zu meinem Erfolg
mitbeigetragen!"
Jan Tiffe – Finalist The Biggest Looser im Interview
"Ich freue mich über UrbanX, weil ich damit über den Sport
neue Leute kennenlerne und nicht immer nur die Fußballer."
Doppel Desi – Stadionsprecherin SV Wehen Wiesbaden
[youtube https://www.youtube.com/watch?v=NZoos_UgYFQ?rel=0&w=560&h=315]
Ready? Support this project from a great startup from Wiesbaden.
_________________________________________________________________
WERDE TEIL DER STARTUP-COMMUNITY IN FRANKFURT/RHEIN-MAIN!
Unsere News und Tipps bekommst Du auch bei Facebook, Twitter oder über unseren RSS-Feed. Tausche Dich aus über unsere Facebook-Gruppe oder unseren Slack (kurze Mail an rheinmainstartups@gmail.com für einen Invite). Du kannst auch einen Gastbeitrag schreiben oder Informationen über Dein Startup einreichen.
UNSERE MÖGLICHMACHER
(Informationen zum Sponsoring)
Sunday Briefing - Dein kostenloser Newsletter aus dem Startup- und Innovations-Ökosystem FrankfurtRheinMain direkt ins Postfach.