Lean Startup Night Frankfurt Rhein-Main, hosted by ambassadors Eckhart Böhme and Paul Herwarth von Bittenfeld, aims to bring the Lean Startup community together to share knowledge, get inspired and network. Speakers from startups and corporate innovation will share their best practices using the Lean Startup methodology to create innovative products and services. You will also get the chance to make new contacts through a speed networking session. We'll end the evening by raffling off 10 copies of the brand new German edition of The Startup Way – Das Toolkit für das 21. Jahrhundert, mit dem jedes Unternehmen erfolgreich sein kann and a Google Home Mini.
Lean Startup Night is a meetup series designed to help our community connect and swap ideas with one another while learning the nuances of the methodology from our expert network. Each Lean Startup Night is hosted by our network of ambassadors and features a different panel talk, fireside chat or presentation with a mentor from the Lean Startup community and local innovation champions. Learn more about the Lean Startup Night meetup series here.



Program:
6:30pm – Doors open
7pm- Welcome and opening remarks
7:10pm – Fireside Chat with Nick Muldoon, co-founder of Easy Agile. Nick will present a case study: From Investment Thesis to $2m ARR in 2½ Years. We'll explore how and why two Atlassian Alumni moved their families from Silicon Valley to a coastal town in Australia where they explored potential products, validated them, found product/market fit and went from investment thesis to $2m ARR in two and a half years.
7:30pm – Q&A with Nick Muldoon
7:45pm – Lean Learning Pitches
Florian Hofmann, myBlix Software GmbH: "Vom Lean Canvas zum Market Fit in 8 Wochen – Value Proposition und Channel Validierung via Splittesting"
Stephanie Hillenbrand und Hans Munzel, DG Verlag: "Big Data / KI im DG VERLAG"
Enrico Jakob, Pando Ventures: "Lean Leadship – Wir wir es geschafft haben noch effizienter zu werden"
Tim Baumeister, R+V Versicherung Innovation Lab: "Fehlender Lkw-Parkraum – Wie klares Kundenfeedback einen Dinosaurier erweckt."
8:15pm – Q&A
8:30pm – Speed Networking with drinks and snacks
9pm – Book and Google Home Mini raffle

Meet the speakers:
Nick Muldoon: Nick has experience working with Atlassian, SF Agile Marketing, Agile Industry Consortium, Twitter and is now co-founder of Easy Agile.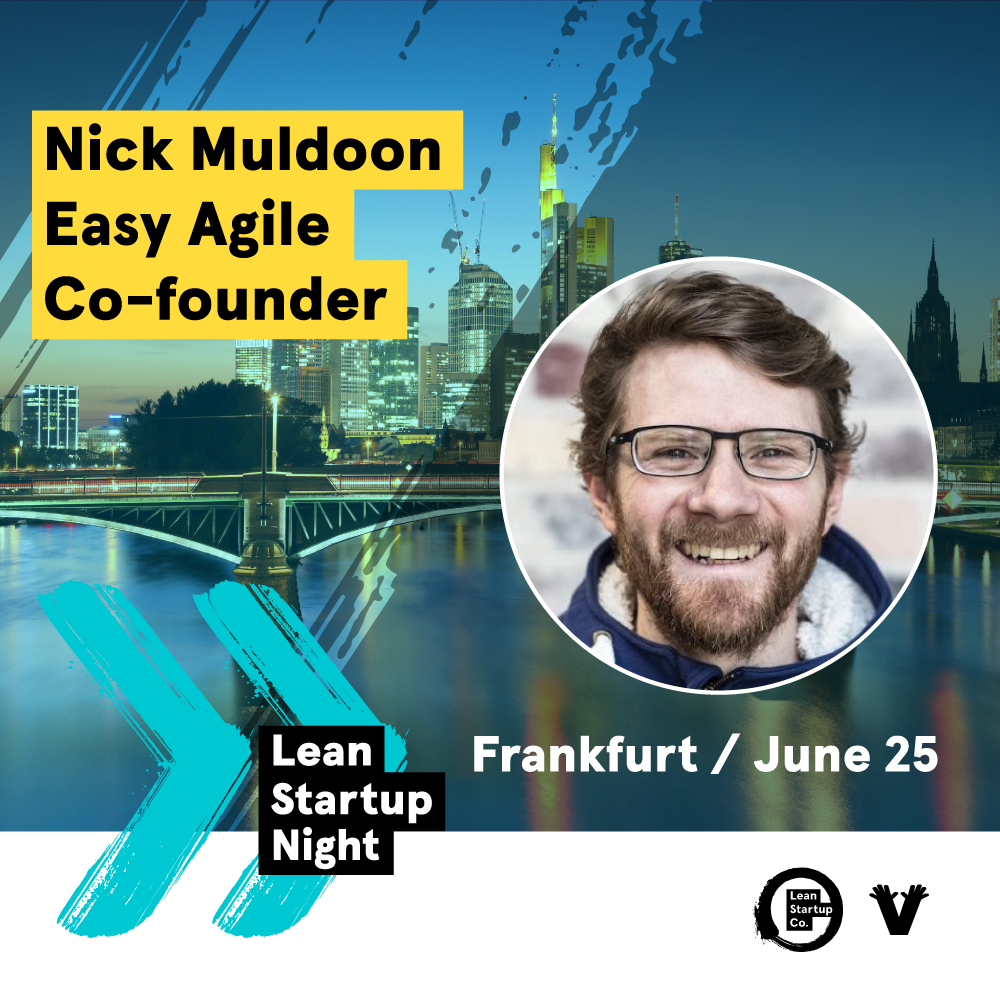 Eckhart Böhme: Eckhart, a former Microsoft veteran, is a speaker, trainer and coach on topics like the Jobs to Be Done theory, Lean Startup, and business model design. He recently served as the subject matter expert for the German book editions of The Startup Way, by Eric Ries and Competing Against Luck by Clayton Christensen, et al.
Paul Herwarth von Bittenfeld: Paul has been with //SEIBERT/MEDIA since 2003 and has worked with a number of different software development teams in various roles. He was co-CEO of several daughter companies and helped create //SEIBERT/MEDIAs social intranet suite Linchpin, which he helped to implement in medium sized and large companies with up to 60.000 employees. Currently he is focused on //SEIBERT/MEDIA's new Google partnership, helping companies implement G Suite as well as Google Cloud platform.
Free registration for the event:
Weitere Informationen zu Events in der Region:
_________________________________________________________________
WERDE TEIL DER STARTUP-COMMUNITY IN FRANKFURT/RHEIN-MAIN!
Unsere News und Tipps bekommst Du auch bei Facebook, Twitter oder über unseren RSS-Feed. Tausche Dich aus über unsere Facebook-Gruppe oder unseren Slack (kurze Mail an rheinmainstartups@gmail.com für einen Invite). Du kannst auch einen Gastbeitrag schreiben oder Informationen über Dein Startup einreichen.
UNSERE MÖGLICHMACHER
(Informationen zum Sponsoring)
Sunday Briefing - Dein kostenloser Newsletter aus dem Startup- und Innovations-Ökosystem FrankfurtRheinMain direkt ins Postfach.